Yourmobile is only the successful company it is because of the amazing staff that we have here. We are a growing company with a UK headcount of 55 and increasing and an additional 30 overseas members. Many people on the outside will however not know the ins and outs of how things work at Yourmobile and what it is like to work for the company. This article aims to give a brief insight into the company and how it operates.
The Yourmobile team is split into four distinct teams; sales, operations, service and retentions. Our sales team is made up of sales staff who focus on pre-sale contact with potential customers along with account managers who handle the communications at point of sale. The operations department handles the connection elements of the process along with accounts and quality assurance matters. Post sale is the responsibility of our service team who will deal with post sale queries as well as and client services. The retention team are then on hand to ensure that clients accounts are renewed.
An average day for a Yourmobile sales team member
For our sales department no day is complete without the morning meeting run by our Sales Director. Designed to ensure that the energy levels in the office are high.
After a coffee staff get to work, headsets on and ready to roll. The automated dialler system is pre-loaded with data that enables our staff to call potential business customers. Each automate call is made only when there is an agent free to speak to a client, this eliminates the "silent" caller situation you find with many other automated systems.
Our staff are encouraged to build rapport and carry out a fact find on the clients existing mobile phone plan. Calls are carefully scripted to ensure that compliance with GDPR and OFCOM regulations. Our staff find it interesting to speak to people around the UK and find out a little bit about their work and often about them as a person.
Once we have established that we may be able to offer a more beneficial deal than the one they are on we pass the call over to an account manager.
And then on to the next call.
Expectations of staff
Yourmobile is a face-paced environment and all staff have targets to meet or beat. As such we do expect our teams to be on the ball and be able to work under pressure, that said we do also like to keep the atmosphere lively and fun. We offer all staff training as part of the on-boarding process and we support ongoing training throughout. 
Perks for Staff
Our aim at Yourmobile is to have a motivated and energized team. We know that to achieve this we have to look after our staff, we therefore have a rank of benefits which our staff can take advantage of. Here are just a few:
21 – 25 days holiday (depending on service) plus 8 days bank holidays
Contributory Pension
Free parking
Free Tea/Coffee/Water
Party nights and socials (when possible)
In house competitions
Generous Commission Structure
Ongoing training with our in-house sales coach
If you interested in joining the team here at Yourmobile please head over the our careers page where you will find information about current vacancies and contact details.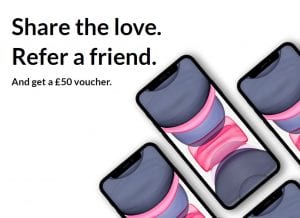 Refer a Friend Refer a friend and get a £50 voucher! Refer a Friend Fill in the form below and we will be in touch
Read More »